The Futurist Manifesto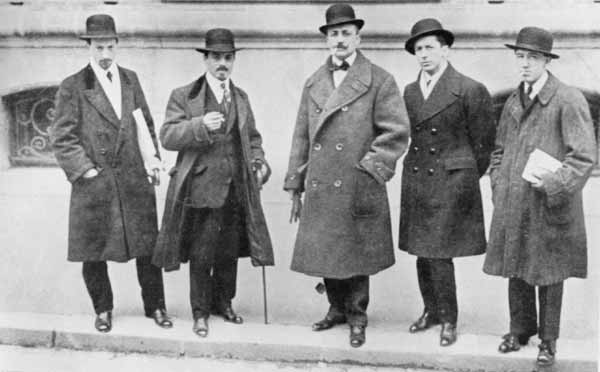 ---
We drove on, crushing beneath our burning wheels, like shirt-collars under the iron, the watch dogs on the steps of the houses.

Death, tamed, went in front of me at each corner offering me his hand nicely, and sometimes lay on the ground with a noise of creaking jaws giving me velvet glances from the bottom of puddles.

"Let us leave good sense behind like a hideous husk and let us hurl ourselves, like fruit spiced with pride, into the immense mouth and breast of the world! Let us feed the unknown, not from despair, but simply to enrich the unfathomable reservoirs of the Absurd!"

As soon as I had said these words, I turned sharply back on my tracks with the mad intoxication of puppies biting their tails, and suddenly there were two cyclists disapproving of me and tottering in front of me like two persuasive but contradictory reasons. Their stupid swaying got in my way. What a bore! Pouah! I stopped short, and in disgust hurled myself — vlan! — head over heels in a ditch.

Oh, maternal ditch, half full of muddy water! A factory gutter! I savored a mouthful of strengthening muck which recalled the black teat of my Sudanese nurse!

As I raised my body, mud-spattered and smelly, I felt the red hot poker of joy deliciously pierce my heart. A crowd of fishermen and gouty naturalists crowded terrified around this marvel. With patient and tentative care they raised high enormous grappling irons to fish up my car, like a vast shark that had run aground. It rose slowly leaving in the ditch, like scales, its heavy coachwork of good sense and its upholstery of comfort.

We thought it was dead, my good shark, but I woke it with a single caress of its powerful back, and it was revived running as fast as it could on its fins.

Then with my face covered in good factory mud, covered with metal scratches, useless sweat and celestial grime, amidst the complaint of staid fishermen and angry naturalists, we dictated our first will and testament to all the living men on earth.

MANIFESTO OF FUTURISM

-We want to sing the love of danger, the habit of energy and rashness.

-The essential elements of our poetry will be courage, audacity and revolt.

-Literature has up to now magnified pensive immobility, ecstasy and slumber. We want to exalt movements of aggression, feverish sleeplessness, the double march, the perilous leap, the slap and the blow with the fist.

-We declare that the splendor of the world has been enriched by a new beauty: the beauty of speed. A racing automobile with its bonnet adorned with great tubes like serpents with explosive breath ... a roaring motor car which seems to run on machine-gun fire, is more beautiful than the Victory of Samothrace.

-We want to sing the man at the wheel, the ideal axis of which crosses the earth, itself hurled along its orbit.

---
Unless otherwise noted, all content ©2019 vivicism.com and should be cited if used elsewhere