The Futurist Manifesto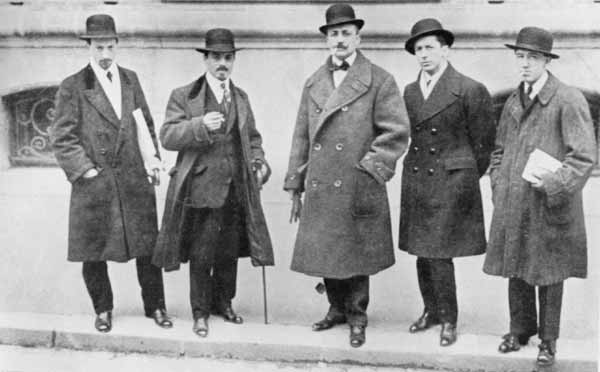 ---
To admire an old picture is to pour our sensibility into a funeral urn instead of casting it forward with violent spurts of creation and action. Do you want to waste the best part of your strength in a useless admiration of the past, from which you will emerge exhausted, diminished, trampled on?

Indeed daily visits to museums, libraries and academies (those cemeteries of wasted effort, calvaries of crucified dreams, registers of false starts!) is for artists what prolonged supervision by the parents is for intelligent young men, drunk with their own talent and ambition.

For the dying, for invalids and for prisoners it may be all right. It is, perhaps, some sort of balm for their wounds, the admirable past, at a moment when the future is denied them. But we will have none of it, we, the young, strong and living Futurists!

Let the good incendiaries with charred fingers come! Here they are! Heap up the fire to the shelves of the libraries! Divert the canals to flood the cellars of the museums! Let the glorious canvases swim ashore! Take the picks and hammers! Undermine the foundation of venerable towns!

The oldest among us are not yet thirty years old: we have therefore at least ten years to accomplish our task. When we are forty let younger and stronger men than we throw us in the waste paper basket like useless manuscripts! They will come against us from afar, leaping on the light cadence of their first poems, clutching the air with their predatory fingers and sniffing at the gates of the academies the good scent of our decaying spirits, already promised to the catacombs of the libraries.

But we shall not be there. They will find us at last one winter's night in the depths of the country in a sad hangar echoing with the notes of the monotonous rain, crouched near our trembling aeroplanes, warming our hands at the wretched fire which our books of today will make when they flame gaily beneath the glittering flight of their pictures.

They will crowd around us, panting with anguish and disappointment, and exasperated by our proud indefatigable courage, will hurl themselves forward to kill us, with all the more hatred as their hearts will be drunk with love and admiration for us. And strong healthy Injustice will shine radiantly from their eyes. For art can only be violence, cruelty, injustice.

The oldest among us are not yet thirty, and yet we have already wasted treasures, treasures of strength, love, courage and keen will, hastily, deliriously, without thinking, with all our might, till we are out of breath.

Look at us! We are not out of breath, our hearts are not in the least tired. For they are nourished by fire, hatred and speed! Does this surprise you? it is because you do not even remember being alive! Standing on the world's summit, we launch once more our challenge to the stars!

Your objections? All right! I know them! Of course! We know just what our beautiful false intelligence affirms: "We are only the sum and the prolongation of our ancestors," it says. Perhaps! All right! What does it matter? But we will not listen! Take care not to repeat those infamous words! Instead, lift up your head!

---
Unless otherwise noted, all content ©2019 vivicism.com and should be cited if used elsewhere